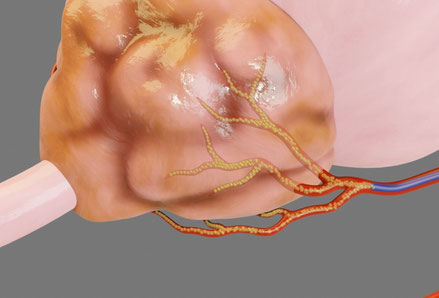 While the field of prostate artery embolization was focused on tuning of the techniques and patient characteristics for an improved outcome in patients with BPH, introduction of prostate artery radioembolization for prostate cancer suddenly opened a new door to the world of PAE with a lot of question to answers.

In this blog, Dr. Nezami will briefly review evolution of prostate artery embolization. 
---
By Nariman Nezami
Vascular and Interventional Radiology, Department of Diagnostic Radiology and Nuclear Medicine, University of Maryland School of Medicine, Baltimore, MD
Experimental Therapeutics Program, University of Maryland Marlene and Stewart Greenebaum Comprehensive Cancer Center, Baltimore, MD
Member of the CVIR Endovascular Reviewer Forum
Although prostate artery embolization (PAE) had clinically performed in daily practice for years to address hematuria, it was specifically introduced for treatment of benight prostatic hyperplasia (BPH) later in 2000 by DeMeritt et al. and Carnevale et al. Since then, multiple studies have focused on addressing different questions about PAE, such as predictors of response in BPH from clinical factors to imaging findings, pre-procedure patient work up, dealing with complex arterial anatomy, optimal size and type of particles for PAE, ideal microcatheters to use (regular vs occlusive ones), determining the response to embolization (relay on clinical symptoms vs. change in size of prostate), when and in what intervals follow up the patients, and yet to address is how long the effect of PAE lasts.
 
In the meanwhile, attempts to offer PAE with bland embolic particles to prostate cancer limited to the gland had failed to show any benefit, compared to traditional low or high dose radiation using brachytherapy. But, early report of successful utilization of Y90 radioembolization of the prostate artery for localized/limited prostate cancer in canine model by the northwestern team opened a new door to world of PAE. Early results showed focal dose-dependent changes in the gland without inducing unwanted extraprostatic effects.
 
Next in line should be a multicenter clinical trial to look into feasibility, safety, efficacy, and the outcome of Y90 radioembolization in human. While prostate artery radioembolization sounds promising, there are multiple questions yet to be answered on the road ahead. These questions will explore the ideal patient population with focus on the grade and size of prostate cancer, optimal size and dose of Y90 particles given the different histopathology nature of prostate cancer, safe and ideal microcatheters for Y90 particles delivery, proper approach for mapping and identifying the shunts/collaterals, biochemical or imaging tools to monitor response to the treatment in this patient population, and even the number of repeat radioembolization sessions required before moving on to the different treatment.
 
Altogether, this promising new avenue of PAE will acquire a lot of clinical scientists' attention down the road and we should look forward to a lot of research projects and original articles on this topic.
Disclaimer
Comments posted on our blog, are those of the individual and in no way represent the views of CVIR Endovascular.