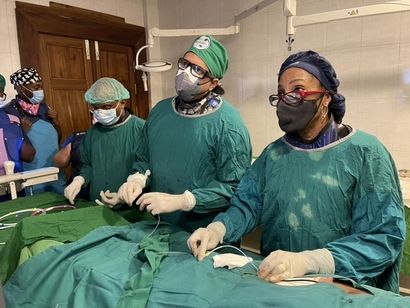 There is currently a severe shortage of interventional radiologists in sub-Saharan Africa, leaving one billion people without access to many essential and life-saving procedures. A new training model is addressing this urgent need by training IR physicians, nurses, and technologists in Tanzania with monthly visiting teams. Find out how to get involved and help make IR available to more patients around the world.
---
By Dr. Ofonime N. Ukweh
Among the second generation of IR Trainees in Tanzania, from Nigeria
Twitter: @fonzyu
LinkedIn: Ofonime N. Ukweh
Sub-Saharan Africa is in serious need of IR services to meet the growing demand for this highly specialized field among a population of over one billion. Through local IR training opportunities, it is possible to close the IR gap and promote a sustainable, locally-driven presence of interventional radiology in the region.

Interventional Radiology (IR) is a cutting-edge specialty that provides safe and cost-effective alternatives to surgery. In high-income countries, it would be difficult to imagine a hospital functioning without IR; however, in sub-Saharan Africa (SSA), limited by a lack of training opportunities, this is the reality for over a billion people.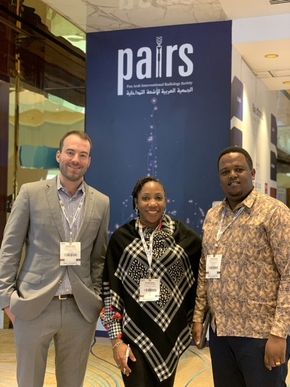 In 2018, the Road2IR consortium sought out to change this and established East Africa's first accredited IR training program in Tanzania. Based on international collaboration, Muhimbili University of Health and Allied Sciences (MUHAS), Yale, Emory, among others, joined forces to close the IR gap in Tanzania and bring desperately needed minimally-invasive services to a population of 60 million. Through two-week teaching trips and remote education,  local trainees learn all aspects of building a sustainable IR service in a two-year fellowship. After graduating three IR trainees and soon seven more, the program is now positioned to serve as a training hub for Sub Saharan Africa, providing graduates the tools and skills to further grow the specialty across the region.
However, many challenges remain, including a shortage of disposable equipment and poor insurance coverage for IR procedures among the most impoverished. To overcome these obstacles, research to validate the program is of the utmost importance to demonstrate the need for IR in this setting and garner industry and government support. With the proper buy-in and support, it is possible to produce the first generation of IRs in Africa and ultimately reduce the pain and suffering of patients.